Greenville Ghost Tours is founded by certified paranormal investigator and researcher Gabe Mathews, founder of Truth Searchers: Paranormal Investigators. Gabe has been fascinated with all things paranormal his entire life.
Gabe considers himself a paranormal educator. Greenville Ghost Tours welcomes believers and skeptics alike. Gabe believes that the only thing separating a skeptic from a believer is evidence.
Greenville Ghost Tours LLC is a licensed tour business recognized by the City of Greenville and looks to be a staple in the community for years to come.
Where do I buy tickets?
Click the big green button.
How long does the tour last?
The Greenville Ghost Tour Paranormal Walking Tour lasts approximately 2 hours. The Spooky & Haunted Bar Crawl lasts 2.5 to 3 hours.
How far do you walk?
The downtown walking tour is just a shade over 2 miles, so bring your walking shoes!
When are the tours?
Please check our ticket page for up to date tour schedule.
Where does the tour start?
The tour starts on the West End at the Rose Crystal Tower in Pedrick's Garden at Falls Park. The Rose Crystal Tower is located behind Vellow Fellow, Mellow Mushroom, Smoke On the Water, Eggs Up Grill, and the Warehouse Theater. It's also known as the Chihuly Sculpture. It's big and pink (see picture below).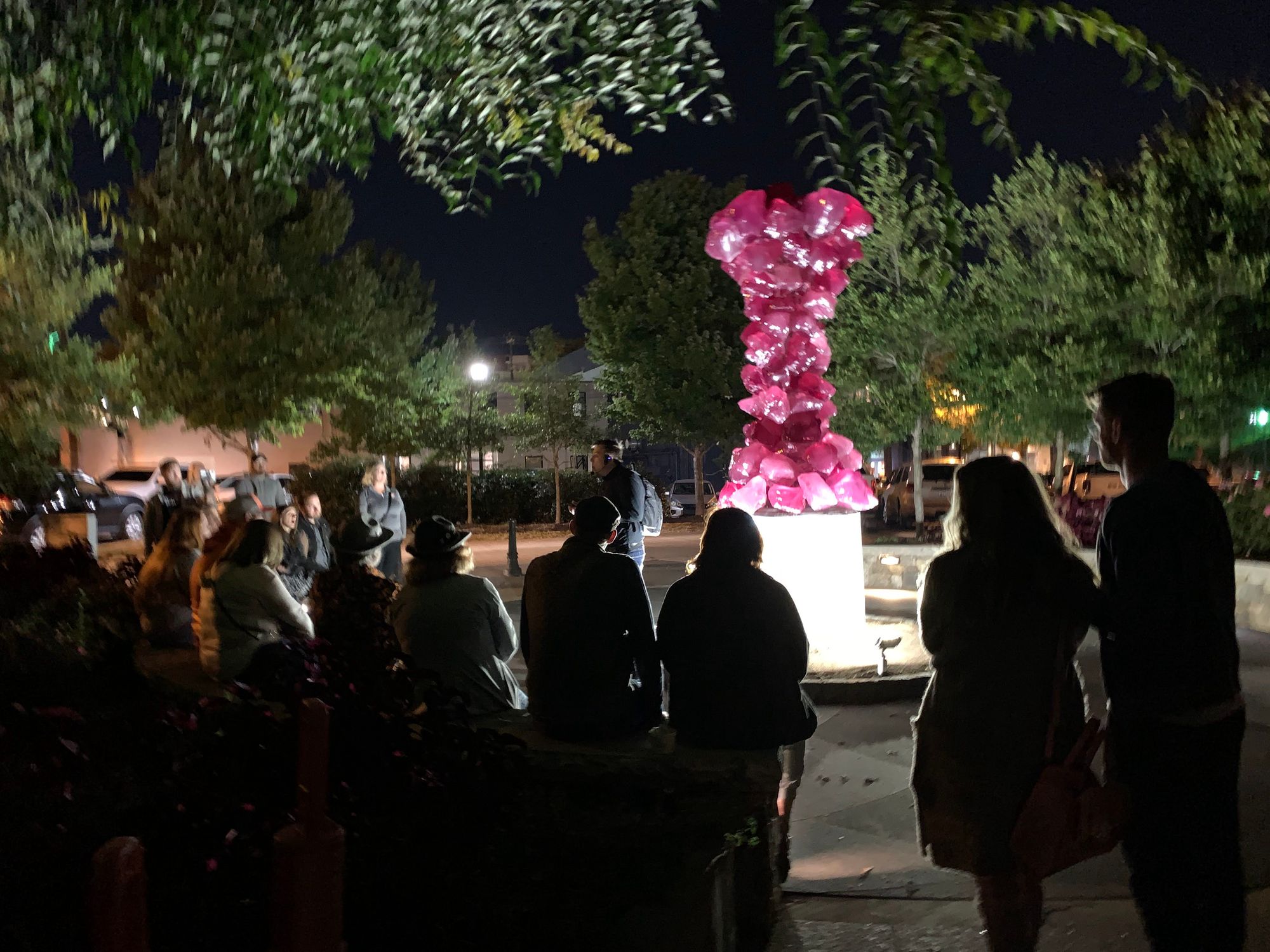 Where does the tour end?
In front of the Hyatt Regency Hotel. Tour end location is subject to change, some tours end at different locations. The tour guide always walks back to the starting location at the conclusion of the tour. If you aren't from the area, the tour guide will make sure you don't get lost.
I went on a ghost tour before and it was super boring!! They kept talking about the architecture and what year buildings were built. Is this that type of tour?
NO! This is a ghost tour, not a history tour or a historical landmark walk. This tour strives to be entertaining and educate on the paranormal. The tour is guided by a certified paranormal investigator and/or a team member of a paranormal investigation team.
Will we see a ghost on this tour?
Greenville Ghost Tours cannot guarantee that you will see a ghost. Actually seeing a full bodied apparition is incredibly rare. Many guests on the tour have been able to pick up anomalies such as orbs, EVPs, temperature and EMF spikes.
I had something paranormal happen to me that I would like to have investigated.
The Greenville Ghost Tours is ran by Gabe Mathews, founder and certified paranormal investigator. Please contact him or check out Truth Searchers: Paranormal Investigators website paranormaltspi.com.
I run a business or know a building downtown Greenville, SC that had some paranormal activity that you should include on your tour.
Please contact us, we would love to be able to tell your story on the tour.
Will we be able to use paranormal equipment on the tour?
Yes! Greenville Ghost Tours has EMF meters for tour guests who want one. You can also use your phone to try to capture orb photos, or other anomalies. Time permitting, other paranormal equipment may be demonstrated during the tour.
Do you offer private tours?
Yes, please contact Greenville Ghost Tours for a quote and more information.
Do you offer a haunted bar crawl?
Yes, Greenville Ghost Tours offers a spooky & haunted bar crawl. Check our to see upcoming dates. It is also offered as a private tour. Please contact for details.
Are the tours kid friendly?
The downtown Greenville Paranormal walking tour is kid friendly, however stories on the tour talk about death, dying, and some dark history of Greenville, so parental discretion is advised. Our spooky & haunted bar crawl is 21+.
Where should I park?
The downtown parking decks are a good option. View the Downtown Greenville Interactive Parking Map for more parking info.
I have encountered an evil entity on your tour and this dark passenger has attached to me and was brought back to my home.
Please contact Gabe at paranormaltspi.com for advice. Until then, try smudging with a palo santo stick, inside then outside the house, then sprinkle blessed salt around and inside the home, inside first.
Do you allow dogs on the tour?
Dogs are not permitted on our Spooky & Haunted Bar Crawl. As far as our regular Paranormal Walking Tour, service dogs are definitely allowed. Smaller or well behaved dogs can also come on the tour. I like dogs, but not everyone does and I want to respect guests comfort. That being said, I have a small dog I sometimes bring on the tour. Dogs can be more susceptible to sensing paranormal entities. If your dog detects an entity and is too disruptive, we may have to perform a ritual cleansing and you may have to exit the tour early.
Are there bathroom breaks?
Yes, there will be opportunities to use the restroom.
Is the tour handicap accessible?
The tour is handicap accessible. The normal tour route has stairs, but a slightly modified route eliminates all stairs without changing the tour! Please notify your tour guide and we will avoid all stairs. Terrain can be rough at times and the tour takes some abnormal routes through dark alleys.
What is your rain policy?
If it's a steady rain or thunderstorm, I'll cancel the tour and refund tickets. For intermittent drizzle, game on! Please dress appropriately and bring an umbrella if necessary.
What is Greenville Ghost Tour's refund policy?
No refunds on missed tours. No refunds 24 hours before tour time. Once tickets are purchased, your space is being guaranteed for the tour. You are responsible to show up at the right location, on time.
Do you plan to offer tours all year round?
Greenville Ghost Tours is spooky all year! Please check our Please check our ticket page for upcoming tours.
My question isn't answered here!
Please contact us.